USK News
Welcome to the USK News. This is one of the places to keep our readers current as to what is happening at USK. If you want even more up-to-date USK information, I suggest you visit the USK facebook page. You can become a fan of the USK facebook page by adding it to your likes pages. This way you will see our posts when they happen. It is your choice how you want to stay in touch with USK.
My goal is to post our recent activities, thoughts, and comments. That being said, I think it is important to understand my priorities. I would rather be out doing things than sitting here writing about them, as I'm sure you would too. Since time is a limiting factor, I can honestly say that I will post more events and items on the USK facebook page more often than posting here. I can post to the facebook page on the go.
Send thoughts, suggestions, techniques, adventures, comments or questions to: study@useakayak.org.
Latest Post:
March 9, 2011 Wayne Writes: We have been so busy with new videos and new projects I have not had the time to sit down and write new articles or even post news other than quick notes to our facebook page. I have just received delivery of our latest video featuring Derek Hutchinson telling has tale of crossing the North Sea. This record breaking trip set the time and distance for paddlers in single kayaks. Derek is a great story teller and we have created a to-disc set of him telling stories and giving a very personal interview of his life. The DVD set is 4.5 hours a great entertainment, aside from being a record of living history in sea kayaking.
We also have added "Confessions of a Wave Warrior" by Eric Soares to our books offerings at the USK store. Eric is the co-founder of the Tsunami Rangers and he has a delightful book that I found to be wonderful reading for anyone who likes to hear about those interested in adventure.
I am off to Canoecopia and then to the Jersey Paddler show at the end of the month. I am currently working on three new videos. One is our maneuvering video and two are in the realm of Greenland Style kayaking for those who like traditional style paddling.
December 29, 2010 Wayne Writes: I have just finished voicing the script for Vol 7 "The Art of Maneuvering Your Kayak" video. The script is 42 pages long. It is the same length as the strokes script, which translated to a 3.5 hour video. I think this video will easily break the 3 hour mark. The good news to the viewer is lots of detailed information. The bad news is the upcoming editing time. The last video took approximately 1,000 hours of editing. At 40 hours per week it will take 6.5 months to complete if the editing time is the same. This one should go faster, but it will be a number of months before it is completed. In addition, I have some other projects that need to be completed aside from some traveling plans on the calendar. I am hoping to have the "Maneuvering" video completed before June of 2011. As my dad always said, "If you are going to do something, take the time to do it well."
November 2, 2010 Wayne Writes: Hadley & I have been busy and have had some very trying times. Unfortunately we had to put Carlie (our female dog) to sleep about a week ago. Her body has been declining steadily over the past few months. We lost her brother Elton almost two years ago. These wonderful doggies we our kids. It has been very difficult for us. Carlie was 16 years old. She hung in there. At the end her body was failing, but her spirit and will to stay alive and watch over Hadley was very strong. It was the right time, but so hard to do. She made a guest appearance in our latest strokes video.
I want to thank all of you who have taken the time to e-mail us about our new strokes video. The compliments are very much appreciated. It was very time consuming (over 1,000 hours of editing time) to get the final 3.5 hours. Eric Soares of the Tsunami Rangers said it is our best one yet. He even added that he learned a lot from the video. Since Eric is an expert rock garden paddler and a video producer his compliment was extra special.
My visit with Derek was fantastic as always. We got out on the water and onto the North Sea for Derek's first paddle since his surgery. He did quite well. I also got a chance to interview him. I have over three hours of stories to sift through. I am hoping we can produce a "Derek Telling Tales" video from the footage. Derek tells some great stories. I also got some rough sea footage when the winds were blowing gale force. I hope to use some of the footage in the upcoming "Maneuvering" video.
At he beginning of October I headed south to teach clinics for the southern California club CKF (California Kayak Friends) and for BASK (Bay Area Sea Kayakers). The clinics were well attended and the feedback was positive.
Oh, I forgot to mention I tore my biceps muscle/tendon when lifting Carlie one morning at the end of July. The MRI confirmed the tear. I will be having surgery in early December. I am still functional, but can feel a significant lost of strength in my right arm when I use my biceps. I am still able to paddle, especially if I really focus on good torso rotation.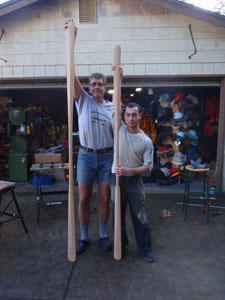 I just finished a two day Greenland Paddle Building Clinic with Maligiaq Padilla (8 time Greenland World Champion). Since I had Maligiaq design my skin boat in last year's boat building clinic, I thought I should make a paddle under his guidance. It was a great time. Needless to say Maligiaq and I have two different size paddles. Mine is 8 feet long. There are a number of photos of the clinic on the USK facebook page.
The clinic is the beginning of Greenland Week here in the Seattle area. The Kayak Academy run by George and Barbara Gronseth is hosting Greenland Week. In addition, at the end of the week (Nov 5-7) there will be a traditional Greenland competition on Lake Sammamish, WA.
I am still new to Greenland paddling so I am only going to participate in the race in my skin boat. There will be ropes, rolling, harpoon throwing and the famous Walrus pull. We have competitors coming from many different states. I also believe there are some international competitors too.
As for my arm, my orthopedist said the surgery is the same for a partial tear and a full tear, so go for it. The worst that can happen is a full tear. In which case, I will have to paddle back to the finish line in a big circle or do lots of J-strokes.
As for the "Maneuvering" video, I still have some more filming to do before the surgery. Then I will have a few months of rehab to get range of motion back. During that time I plan to do the editing of the video. My hopes of a pre-holiday release has faded. Loosing Carlie put us both off schedule. The surgery is also delaying the process. How quickly I can edit will depend upon the function of my right arm, since I am right handed. The good news is, Hadley will be visiting family for three weeks during the holidays, which allows me to focus on editing. I will keep you posted.
August 22, 2010 Wayne Writes: I will be visiting my good friend Derek Hutchinson soon. Derek has told me he is recovering nicely from his surgery and would like to go out for a paddle. We should have a good time on the water. I was planning to do another solo trip out to the Farne Islands, but Derek has informed me he has a paddling partner for me. I am curious as to who will be paddling with me.
Since Derek has been such a major influence on the modern sport of sea kayaking, I asked him if I could video tape an interview with respect to his kayaking career, his contributions, the inspiration for some of his ideas and of course some Derek tales. If there are any questions you would like answered, please get them to me immediately and I will try to work them in if we have the time. After all, Derek is living history with respect to sea kayaking. It would be a shame not to have a video record of his his perspectives on the sport.
July 31, 2010 Wayne Writes: I just received a question from a paddling friend Duane Strosaker (on our facebook page) who asked about the supportive reverse stroke he learned in a clinic that was taught by Derek Hutchinson and myself about ten years ago. He did not understand why it is not used by most paddlers and why there seems to be resistant attitudes for the stroke. I told Duane it is beyond my comprehension why anyone would use anything other than a supportive reverse stroke when going backwards or stopping. I show the differences in our new strokes video of the different reverse strokes and stopping methods. After seeing the comparisons I believe a paddler will adopt a supportive reverse stroke.
July 20, 2010 Wayne Writes: I have been filling orders for our new "Essential Kayaking Strokes" video, which arrived from the duplicators on July 16th and looked good when I previewed a copy. Now that the video is done, Hadley has me landscaping around the house. I am exhausted from clearing 6 months of weeds and growth from around the house. Stuff really grows here in the Pacific Northwest. The muscle soreness form paddling does not hold a candle to the pains I feel after two consecutive days of landscaping.
After a short break I will be continuing my work on the Maneuvering script, which is 75% completed. This is a good time to add your two cents as to what you would like to see in a maneuvering video that focuses on using the strokes from our strokes video in different environmental conditions such as: head seas, following seas, beam seas, quartering seas, currents, tidal streams, riding tidal waves (NOT Tsunamis), windy day paddling and more. If there are specific items you would like to see in the video please e-mail us your thoughts.
July 12, 2010 Wayne Writes: Our new video "Essential Kayaking Strokes" video is ready for purchase from the USK store. We will ship them on Friday July 16th (this week). We have also redone the USK homepage. In addition, we have added some new products to the USK store (tow belts, paddle britches, recovery stirrups and a very nice kayaker's key ring.) For those who saw our Flogum page, you will notice it no longer exists. I have replaced it with the USK News page. The Flogum page didn't work, so it is gone.
July 1, 2010 Wayne Writes: Sorry for being away from the web site for so long but we had a major computer melt down an the end of March. We eventually got our back-ups uploaded after getting a new computer. I had to make a decision as to where my time would be better used. I chose to finish our long awaited "Essential Kayaking Strokes" video. I just shipped it off to the replicating company this morning. I should have DVD's back here ready for sale in two weeks. I have to say I am very impressed with the video, because I decided to put so much into it. The final running time is 3 hours and 28 minutes. Thanks goodness for DVD so you can easily jump around to the topics you want to view. As always we have included a menu insert (with all of the topics) so you can easily find your topic without having to scan the menus on the TV. Now that the video is done I will have time to get back to posting new articles on the USK web site.
March 23, 2010 Wayne Writes: So much for trying to keep everyone up to date. Trying to keep up with the new social media networking needs at least three clones. I have been adding to the USK Facebook page, which seems to be a better way to inform USK fans compared to this flogum. If you are Facebook user consider becoming a fan of USK. USK Facebook page.
Since the last update, I have continued paddling and comparing my pace speeds. Unless things radically change, my Werner paddle gets me .2 mph more speed than my Greenland Paddle. My Epic wing gets me another .2 mph over my Werner. These times have been very consistant, even in some wind conditions. Therefore, I can maintain a 6.1 mph pace in my skin boat, for an hour, with my wing paddle in calm conditions. 5.9 mph with my Werener Corryvrecken and 5.7 mph with my Tuktu Greenland paddle.
While working on the next two videos ("Stroke Mechanics" and "Maneuvering Techniques") we have had life challenges and business interuptions. I have now pushed the release date to late spring or early summer if we are challenge free.
Symposium/Event season started in February with Washington Water Trails Winter Training. I just came back after presenting at Canoecopia 2010 in Madison, WI. I hear 27,000+ attended. I am off on Thursday to New Jersey to present at Jersey Paddler's Paddlesport 2010. The I am off to teach at ECCKF in Charleston, SC. I still loveteaching and presenting. I also get a chance to catch-up with old friends and make some new ones. With all of this travel it is no wonder that the videos are taking a lot of time to complete.
For those who did not know, Derek Hutchinson is recovering very nicely after surgery removing cancer in his esophagus. Prognosis is excellent. Derek is in good spirits and regaining his strength.
Hadley was able to get back on the water after a long recoup from her elbow surgeries this last year. She christianed her new Current Design Solstice GTS. She loves the boat and being back on the water.
January 25, 2010 Wayne writes: After numerous requests from our readers we have created a Facebook page for USK. To be honest, it takes a lot of time to keep posting to our web site so we have put off adding a facebook page and the time it takes to keep it fresh. However, we want to keep our readers up to date with what we are doing so we have committed to posting new info for your reading interest on our facebook page. We would love all of our readers to become "FANS OF USK." If you wish to become a Fan of USK go to our facebook page and sign-up to be one of our fans. USK Facebook page.
January 19, 2010 Wayne writes: As I promised, I would keep you up-to-date with my findings when comparing different paddles during my training sessions. Today was a beautiful day up here in the Pacific Northwest and the lake was dead calm. I took three different paddles with me. My Werner Corryvrecken paddle, which is 220 cm long and weighs 27.5 ounces. My next paddle was my Greenland paddle, made by Tuktu Paddles, with a paddle length of 244 cm and the widest part of the blade near the tip was 8 1/2 cm. The weight on the Tuktu is 38 ounces and of course made of wood. For those who would prefer the length in inches, it is 96 inches long (8 feet) and 3 1/4 inches wide near the tip. The third paddle was my new Epic mid-wing, full carbon paddle. The length range is 210 to 220 cm. The weight of the Epic wing is 24 ounces. My first lap with the wing I had it set at 213 cm. My second lap was set at 214 cm in length.
Since my experience with the wing was extremely limited I did a short orientation paddle to get the feel of the wing stroke. Again the circumference of Martha Lake is 1.25 miles. I did about three quarters of a mile orientation paddle with the wing. After setting my GPS to zero I took off on my first sprint lap with the wing. My boat accelerated very quickly with the wing. I got to a top speed of 6.1 mph and an average speed for the one lap around the lake of 5.9 mph, but closer to the 6.0 miles per hour. The GPS was fluctuating between 5.9 and 6.0.
After a short rest I zeroed my GPS again and took off with my Greenland paddle. I immediately felt the difference in acceleration. The difference was the Greenland paddle did not accelerate as quickly as the wing paddle. My average time for the one lap around the lake was 5.4 mph. I felt I was getting a good bite when I was taking the strokes with the Greenland paddle. Most of the lap had a pace of 5.3 mph and I was able to get it up to an average of 5.4 mph during the last third of the lap. Again one lap is 1.25 miles. Last week when I did all my laps with the Greenland paddle I consistently did a 5.4 mph pace.
My third lap was with the Warner paddle. Again I zeroed my GPS after a short rest, and took off to see how the Warner would compare. My acceleration with the Warner was a little faster compared to the Greenland paddle. My average pace for the 1.25 mile lap was 5.8 mph for over three quarters of the lap. During the last part of the lap the pace nudged over to 5.9 mph for an overall average pace.
Even though I felt tired, after three Sprint laps, I decided to see if I could do one more lap using the wing paddle. As before, I zeroed out my GPS and after a similar rest period I took off. My acceleration was better than the Greenland paddle and the Warner paddle. I quickly got up to a 5.8 mph pace. That 5.8 pace soon became 5.9 and then 6.0 mph. Near the end of the lap my pace hit the 6.1 mph average for the lap.
Since one can argue you have different energy levels during each lap, I will repeat the same training on future days rotating the order of the paddles. That being said, I can honestly say I felt a difference amongst the three paddles. I freely admit that extended use of any one paddle will increase one's efficiency with that paddle. Since the Greenland paddle and the wing paddle are both relatively new for me, with respect to sprinting, I believe my performance with either one of these paddles will increase. However, my first impressions are the winged paddle gave me the best acceleration, the best pace and I felt less blade slippage with the wing.
I am comparing these paddles for racing purposes. As I said before, my favorite paddle for overall touring and rough conditions is my Toksook. Therefore I feel I am fairly unbiased as to the three paddles I am comparing for racing. I will probably take my Toksook out on one of the training sessions just to see what my sprint time would be.
January 14, 2010 Wayne writes: Two days ago I went down to Martha Lake (my local training lake) for a workout. Prior to the race at Deception Pass I did a few training sessions on Martha Lake. To estimate the distance of paddling around the circumference of Martha Lake I used Google Earth to plot my routes. It turns out one lap around the lake is 1.25 miles. Given the distance for the race at Deception Pass is about 6 miles, I would have to paddle five laps of the lake for a comparable workout. My average training times were approximately 5.9 miles an hour. I was using a Werner "Corryvrecken" paddle. To be honest with you, I never counted my stroke rate when I was training before the race. It is also important to note that I only did six training paddles for the race.
When I went out this past Tuesday using my Greenland paddle and my new GPS I was paddling at a rate of 5.4 mph. I felt like I was putting the same effort into my paddling as I did when training prior to the race. I did try to count my stroke rate at a few different times and the result was 76 to 80 strokes per minute. At first glance it appears my Greenland paddle is not giving me the same performance as my Werner paddle. However, to be completely fair in my assessment I will be doing more comparison paddles in the weeks to come.
If I take both paddles with me to the lake and I switch off paddles for each lap of the lake I believe I will have a better comparison of these two paddles. Out of fairness to the Greenland paddle, I have not used it very often so I am sure I can get more out of the paddle with more training. I have to honestly say, I do not have any bias towards one paddle over the other. I was just curious to see how the two different paddles would compare. Before you ask, yes I was using the same kayak as I did prior to the race, which is my new skin boat.
January 10, 2010 Wayne writes: Yesterday was the first day of official filming for our next instructional video. I arranged to go up to Deception Pass and film Warren Williamson, who is a local boater, quite well known for spending a lot of time playing in the fast waters at Deception Pass. I first met Warren at the boat building clinic in August. I have seen a number of YouTube clips featuring Warren playing in the eddies, boils and whirlpools at Deception Pass. Prior to yesterday the last time I saw Warren was when he came across the finish line at the Deception Pass Dash with a great time using his Greenland paddle.
I was spending some time with Warren before the filming discussing some of our thoughts about paddling. After sharing some of our thoughts, I can easily see Warren becoming a regular paddling partner if I take the time to make it happen. Watching the way he plays in the eddies and the current reminds me of me when I played on the river. While we were talking about kayaking Warren mentioned he wrote an article and said he would like me to read it. After reading the article I contacted Warren to ask his permission to post it on the USK web site, because I like the message it is sending about the commitment it takes to play in rough water. Warren did not have a title for his article so I entitled it "Rolling My Kayak."
I have not had the chance to view the footage taken yesterday, but it looked good through the camera lens. When I showed up at Bowman Bay parking lot it was like old home week. Chris Mitchell along with Steve and Cindy Scherrer and many other excellent boaters were there for an ACA Instructor Training class. In addition, my friend Boston Bob Burnett showed up with his gang to play in the fast water. I knew I would have a lot of good boaters doing the eddy turns, peel outs and ferry angles I wanted for the next USK instructional video.
After filming from on top of the bridge I drove back to Bowman Bay to get in my kayak so I could use my helmet cam to give the on water perspectives of playing in eddies and fast water. What was supposed to be an overcast rainy day turned out to be sunny and I'll use the word warm for this time of the year. Even though it would have been nice to play with the other boaters at Canoe Pass, I have to say I enjoyed being there by myself enjoying nature and the solitude of the moment. The other aspect of paddling alone, which I enjoy, is knowing you have only yourself to depend upon. When I am alone I feel my senses are cranked up a few extra notches. While I was playing at Canoe Pass Andrew, from Tacoma, who was also playing with his skin boat, briefly joined me. Now that I have made a skin boat I feel a kinship to others who have gone through the same process.
Speaking of which, I received an e-mail this morning from my friend in Southern California Duane Strosaker who has posted pictures of his maiden voyage of his new skin boat. For those who want to see the pictures click on the following link: Duane's new skin boat. For those who do not know Duane, he has been making his own kayaks, paddles and accessories for many years now. He's another one of those fellows with the attitude "just do it."
Duane is one of the active members of CKF (California kayak friends) a Southern California paddling club. Even though I live north of Seattle they still allow me to be a member of the club. Like any other kayaking club there are regular and numerous e-mail postings, which keep all members up-to-date as to what's going on with the different characters in the club. Even though I am not there I still feel connected with my old paddling friends. You gotta love e-mail!!!
January 2, 2010 Wayne writes: I forgot to mention in yesterday's update that the USK "Make A Difference" program was able to buy 60 food cards to give out to those in need. Unfortunately this year's donations were less than half of the previous year. I know times are tough for everyone, but in tough times donations mean a lot more. So I ask all of you readers who viewed close to 900,000 pages from our website to consider going to the USK Store and donating a small amount to our "Make A Difference" program. If you prefer not to donate to our program, think about buying an extra food card for five dollars the next time you get fast food and giving that card to a person in need. Now that the fast food restaurants are offering tremendous $1 dollar value meals a $5 food card can buy 4 to 5 meals. One of my traditions on Christmas Eve is to watch my favorite version of A Christmas Carol with Alastair Sim. All I can say to make my point is repeat a quote from the ghost of Jacob Marley, "mankind is our business."
January 1, 2010 Wayne writes: First let me extend a happy new year and a healthy paddling new year to all of our readers from me and Hadley.
I want to congratulate Dan Thomas, from North Wales, for being the first reader to send comments to the new USK flogum. Thank you Dan for your kind words about the content of the USK website. It has taken a number of years, but I agree with you regarding it being the best website with respect to content that I have found for sea kayaking education information. I just downloaded the year end website statistics and the USK website received 2,349,595 hits in 2009. Close to 900,000 pages were accessed this last year by our readers. It is nice to know that our hard work has paid off with respect to promoting sea kayaking education.
As for your modification of the back deck reentry, I think it is a useful technique. The only qualification I must add is that the assisting kayak must have deck lines for your technique to work. Unfortunately, I have seen too many kayaks out on open water with no deck lines. One of my regular comments in my articles is the importance of having and/or adding deck lines to a kayak. If the boats are properly outfitted your technique is a good one.
The YouTube link that shows your "partially capsizing water emptying technique" is a good demonstration. I have personally used that technique and have included it in some of my guide or instructor development classes. When I tried it with beginners, I found too many students slipped out of their kayak on the side, because they were too nervous when the boat went that far over. Like anything else, it is a skill that needs to be developed.
As for writing some articles about moving water techniques, I am in the process of scripting our next video which will cover strokes and maneuvers. Depending on the length of the video, I am hoping to include moving water techniques. Once I get the moving water footage on video tape I will be able to use still frames from the video for future articles. Thanks for your request and I will put it on my future article list.
December 29, 2009 Dan Thomas writes: I want to start by saying thanks for putting together what could well be the best sea kayaking site on the Web. There's lots of other stuff out there but I don't know of anything else that has received the same amount of time and thought as you have clearly put in.
Here's my contribution to your flogum: I stumbled by chance on my own modification to the back deck re-entry. My paddling friends and I all instantly took to it, which is not to say that it will work for everyone. Imagine that you have just capsized and wet-exited. A helpful rescuer has emptied your boat and is now rafted up with it to stabilise it while you climb in. You are floating in the vertical position, just aft of your cockpit and on the far side of your boat from your rescuer. All fairly standard stuff - the difference is in what you do next. You reach across your own back deck, turn the palms of your hands up towards the sky, and take hold of the decklines on the near side of your rescuer's boat...
I think I should describe that position in a bit more detail. As already said, your palms face up towards the sky. Correspondingly, the backs of your hands are in contact with your rescuer's deck. Your thumbs face outwards towards your boat's bow and stern, not inwards towards each other as they would if you were holding your paddle. Your fingers are curled around your rescuer's decklines. It can feel a bit awkward, especially if your rescuer's boat is floating lower in the water than yours is. The benefits become clear as soon as you try to get your belly up onto your back deck: ...
Your elbows are braced firmly against your own back deck. You pull yourself towards your rescuer's boat. Your elbows flex and your weight comes onto them. They press down against your back deck. Your torso rises up out out of the water. Your back deck sinks down. Your elbows flex further. Your torso stops rising and instead starts to move forward, over your back deck. You quickly reach a point where you can just relax and your belly flops down onto your boat exactly where you want it to be. From there you can continue with the re-entry as normal.
There are several advantages here:
* You aren't climbing, scrambling or slithering. There is no sense of awkwardness other than that of having to start by turning your hands "the wrong way up". One simple movement gets you easily up onto your back deck.
* Your bouyancy aid is clear of your deck as your torso comes out of the water. If like me you have pockets full of flares, chocolate bars and who-knows-what, they won't catch on anything as you come up.
* Next to no forces are transferred to the rescuer's boat. A small rescuer can rescue a heavy swimmer without ever having to work hard or feel as if they are being pulled off balance. Sorry if my description is on the long and complicated side. It is simple enough if you get into the water and try it.
On a related topic, have you seen the technique for emptying a swimmer's boat that is shown about 30 seconds into this You Tube video? It looks a little startling the first time you see it but I find that it is quick, secure and takes next to no strength on the part of the rescuer.
Finally my home waters (Anglesey, North Wales) are blessed with some very powerful, not to say notorious, tide races. Rates of over seven knots are common and it isn't hard to find eddylines that will capsize the incautious paddler. Penrhyn Mawr tide race video shows what it can be like on a big tide but a very calm day.
How about making moving water the subject for some of your featured skills - breaking in, breaking out, ferry gliding, surfing standing waves, etc.? It is well covered elsewhere from the point of view of short white water boats, but a bit different in a 17 foot sea kayak.
December 24, 2009 Wayne writes: for those of you who have read my recent reflection entitled DNF you have found out that I have gone through a self-imposed body change since June of this year. What I did not post in the article was my recent weight loss exposed a hernia that I have had for some time. When I looked in the mirror in October, I saw the bulge in my lower right quadrant. Prior to that time, my fat layers hid the bulge. My hernia was asymptomatic so I did not know I had it. When my doctor confirmed that I did have her hernia, I became very paranoid about it becoming strangulated.
For the last six months I have been exercising like a fiend. That is one of the reasons why I have not had time to sit and write new articles for the USK web site. When my surgeon told me of the recuperation time, I elected to postpone the surgery until after the race on December 12th. I went in for surgery on December 15th and all indications point to a 100% successful operation. Why am I telling you this? Because I am sitting here at my computer looking out at an absolutely beautiful day and I want to be on the water paddling. However, my surgeon knowing my activity level, especially recently, made it very clear he wanted me to sit still for at least two full weeks. I am not to lift boats, carry boats or paddle boats. He did allow me the opportunity for walking. I can tell you that walking and paddling are not the same. I did go out for a one-hour walk yesterday and maintained a 3.7 mph pace according to my GPS. So far I am feeling very good after the surgery and I look forward to getting on the water again. As a side note, my surgery was Laproscopic, therefore it was minimally invasive. That is one of the reasons for the faster healing time. I am sure that my increased fitness level has also helped my recuperation time.
One of my favorite quotes is, "If life gives you lemons, make lemonade." With that in mind I am using this so-called downtime to script my next few videos and update the web site. My goal is to shoot and edit the videos with a release date this spring. So far, I have yet to meet my release dates due to complications in production from the duplicating center. However, I am a firm believer of setting goals, because it gives you something to shoot for.
For those of you who are interested, the next few videos will focus on strokes and maneuvers. Aside from the obvious, if there are specific aspects you would like to see in this video please send me your thoughts.
Since retirement I do not know where my time goes. Hadley & I always have something to do and someplace to go. Because I don't seem to have the time to keep up with my regular monthly posting of two articles per month (my monthly reflection and my skill of the month), I have decided to change the name of the "Skill of the Month" to "USK's Featured Skill." I will still write and post articles, but I can no longer do one a month, as can be seen by the lack of new postings for the past number of months. I am hoping I can do some quicker posting via this flogum to keep you regularly coming back to the USK site.
I want to thank those who wrote to me wondering if I was OK since there was a lack of recent postings on the USK site. There were a number of changes beginning in May of this year. In addition to lots of exercising, I started some new hobbies. I also had the opportunity to build my own skin boat under the guidance of Maligiaq Padilla the eight-time Greenland champion. I will write more about my fantastic experience with Maligiaq in the future.
As an interesting side note, my thoughts on this page were spoken by me, but typed by the program MacSpeech Dictate, which uses the same engine as Dragon Naturally Speaking by Nuance. I am blown away by the speed and accuracy of this speech recognition software. For those of you who use PC's, the Dragon Naturally Speaking program was originally designed for PC's and I am told the program works even better on PCs.
I have a choice to make. I can continue sharing thoughts or I can work on the script. The choice is an easy one. The sooner I finish the script, the sooner the video(s) gets done. As they say in England, "Ta Ta!"