USK's "Capsize Recoveries & Rescue Procedures "
Volumes 1 & 2 in the USK "In Depth" Instructional Video Series
© 2001
Welcome to volumes 1 & 2 in the USK "In Depth" Instructional Video Series. These two videos are the first in our series. We started with these topics, because the number one cause of death in sea kayaking or kayak touring is exposure to the elements, which is caused by NOT dressing for immersion and/or NOT being able to get back into your kayak and out of the water after a capsize. Even though 90% or more of your time is spent doing a forward stroke, a bad forward stroke doesn't kill you. Poor stroke technique can cause overuse injuries, but it is not fatal. We thought the most serious topic should be produced first, which is "Capsize Recoveries & Rescue Procedures."
We wish to thank our loyal customers who have supported us over the years by purchasing our videos, taking our clinics and purchasing products from the USK web site. Your e-mails praising our videos and web site are delightful to receive, because it lets us know we are doing a good job. For those who enjoy all of the information that is available for free on our web site, facebook page and You Tube page, please understand that the time it takes to make all of those resources available are supported when you make purchases from the USK Store on our web site. We also encourage our readers to become "USK Bracers" (those who support our web site) or to make donations to our "Make A Difference Program", which helps provide meals to homeless individuals. As always, any and all support for USK and its programs are gratefully appreciated.
USK's "Capsize Recoveries & Rescue Procedures " 2 Disc Set
Running time: 124 minutes per disc (2 hours and 4 minutes each disc)
Chapter Stops: 52
MSRP: $39.95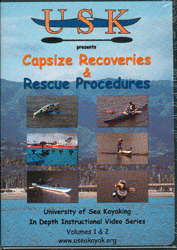 In kayaking we say, "When you capsize, not if you capsize." Let's face it, sooner or later you're going to flip over when you are in your kayak. Kayaking is supposed to be an enjoyable activity. If you are dressed properly and can perform reliable capsize recovery techniques, a simple capsize should be no big deal. However, many unsuspecting beginners have jumped in kayaks not realizing how dangerous it can be if they found themselves in the water for a long period of time. If the water is cold, it only takes a short period of time before a capsized paddler is in serious trouble if they are not dressed for the water temperature.
With that in mind, we have put together this two-volume video set that covers numerous ways to get in and out of your kayak, how to help your paddling partner back into their kayak, how to dress for immersion, how to signal for help, how to use the required rescue equipment, ways to treat hypothermia and numerous other topics.
Before anyone gets in a kayak and goes out on the water they should be well versed at being able to get out of and back into their kayak when they are away from shore. Having to figure it out when the emergency occurs is how other paddlers have become statistics. We highly recommend you learn your capsize recovery techniques so you can have many enjoyable years paddling your kayak.
If want to learn how to successfully get back into your kayak and dress properly for immersion, you can purchase this video at the USK Store. Once you go to the USK Store, select the DVD's Instructional link. Click here to go to the USK Store.
Video Resources
As with all of our instructional videos, we have included an insert in the DVD case with the list of all of our chapter stops to make it easier for you to reference where you would like to go on the DVD. If you loose the list or wish to see the details of what is included on the DVD, you can go to the Volume 1 Menu Link or the Volume 2 Menu Link to access a copy to read and/or download.
In addition, this video contained a list. Visit the following link for the list:
See the rest of the USK "In-Depth" Instructional Videos in our series.
We tried our hand at producing a video guidebook called "Paddling Hawaii, Kaua'i Day Tours" in our new Places To Paddle Series. If you want to paddle on the Island of Kaua'i we highly recommend this video.
Sponsors and Advertisers
We wish to thank the following sponsors and advertisers for supporting our video and USK:
Current Design Kayaks
GAIA Sports
Snap Dragon Spray Skirts
We are selective in the companies we approach for sponsorship. We choose companies that produce quality products and work to take care of their customers. We hope you support our sponsors.

© Copyright USK